The Companion to The Forest of Hands and Teeth
The Dead-Tossed Waves
Carrie Ryan
Gabry lives a quiet life, secure in her town next to the sea and behind the Barrier. She's content to let her friends dream of the Dark City up the coast while she watches from the top of her lighthouse. Home is all she's ever known, and all she needs for happiness.
But life after the Return is never safe, and there are threats even the Barrier can't hold back.
Gabry's mother thought she left her secrets behind in the Forest of Hands and Teeth, but like the dead in their world, secrets don't stay buried. And now, Gabry's world is crumbling.
One night beyond the Barrier...
One boy Gabry's known forever and one veiled in mystery...
One reckless moment, and half of Gabry's generation is dead, the other half imprisoned.
Gabry knows only one thing: if she is to have any hope of a future, she must face the forest of her mother's past.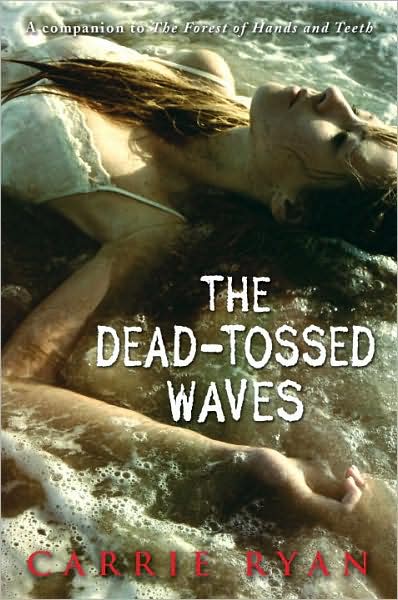 First Impressions:After reading the first book, I was excited to read this one. Although, I was a little apprehensive because it was a companion novel and not a sequel, meaning the main characters were different. However, I would actually call this a sequel, even though it takes place 40+ years in the future. All I really have to say though, is it's 100 times better than the first!
Setting: The setting was great! We still had the forest, only now the majority of the story takes place on the coast. It was different from the setting in the first book, but in a good way.
Characters: The characters were pretty good. The main character, Gabry, was a great narrrator. I felt, though, that some of the characters were just a tad bit flat. Not too much, because I still enjoyed them, but I think there could have been more to a few of them. Some of them were a tad bit boring, even though we were supposed to love them, or feel bad for them.
Writing Style: Carrie Ryan is a great writer! She's gotten much better, you can tell. It was interesting seeing her writing grow so much from the first book to the second. The flow and the way she organizes the elements to her story are both fabulous. She gives the readers detail, but not too much or too little. My only complaint would be (and this is something she did in the first book too) that she repeats certain elements a lot. I felt it was more so in the first book and less in this one, but it was still there. I felt myself thinking many times, "I get it! That's how she's feeling!" Sometimes Gabry would tell how she feels about a situation or a person a million times in a few pages, then it would repeat again a few chapters later. Also, it seemed that the wrong elements were repeated. There's one situation that I thought should have impacted Gabry more. It would have been a huge deal instead of the small deal that it was.
Cover: The cover is pretty awesome! The tone of it really fits with the book.
Plot: I loved the plot! I was intrigued from the beginning to the end, something that didn't happen with the first book. Mrs. Ryan incorporated many different elements in the perfect way. There are twists you wouldn't expect. There's action. There's romance. There's times where you think you know what's going on, but you're wrong. My only complaint about the plot would be that I thought the romance was a little...well, bad. For the first half of the book, Gabry obsesses over one guy then it all of a sudden turns and she's in love with someone else. In my opinion, that should have been drawn out more. We should have watched Gabry fall in love with this other guy, because then it wouldn't be so WAHBAM! we're in love! Other than that, I loved every minute of the plot.
Dislikes: The romance aspect was flat and flipped too quickly and some things were repeated too much and others weren't developed enough.
Final Thoughts: This book is 100 times better than the first and I loved it! It's one I would read again and again. A great read!
Ratings:
Setting:★ ★ ★ ★ ★
Characters: ★ ★ ★ ★ ★
Writing: ★ ★ ★ ★ ★
Cover: ★ ★ ★ ★ ★
Plot: ★ ★ ★ ★ ★
Overall: ★ ★ ★ ★ ★
Recommend it? Absolutely! I definitely recommend this. Espeically if you're looking for a zombie read!
This has been a review by Evie!!! Peace out!