A prodigal son. A dangerous love. A deadly secret . . .
The Dark Divine
Bree Despain
Grace Divine, daughter of the local pastor, always knew something terrible happened the night Daniel Kalbi disappeared—the night she found her brother Jude collapsed on the porch, covered in blood. But she has no idea what a truly monstrous secret that night really held. And when Daniel returns three years later, Grace can no longer deny her attraction to him, despite promising Jude she'll stay away.
As Grace gets closer to Daniel, her actions stir the ancient evil Daniel unleashed that horrific night. Grace must discover the truth behind Jude and Daniel's dark secret . . . and the cure that can save the ones she loves. But she may have to lay down the ultimate sacrifice to do it—her soul.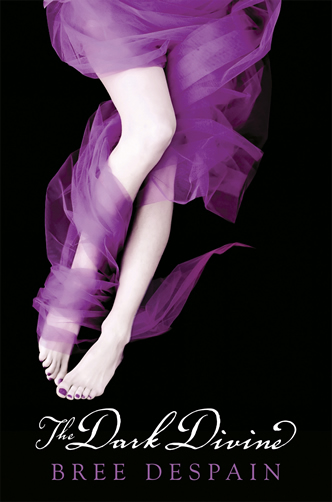 First Impressions: This was another book that I found out about online. The cover was what dragged me in and the description was interesting. However, when I first started it, I didn't really know how I was going to like it. It was grabbing my attention, but I couldn't tell if I was intrigued or not. It was sort of a weird feeling.
Setting: The setting was okay. I wish I had more of a description. All we really got was that it was small. I had a hard time picturing it; only certain elements.
Characters: The characters were pretty good. I'm not crazy about them, but I thought they were pretty well developed. I liked the names of the Divine Family as well, that was clever. Sometimes, though, I was a little confused on ages on a few people, which made my mind jump all over the place. However, the main character, Grace, was a good character to follow. She wasn't too strong or too weak. There were places, though, when I thought she just reacted strangely; she was too calm in certain places and too over the top in others. It was in those places that I didn't find her believable enough, but other than that, she was good. Her brother, Jude, was probably the best developed in my opinion, but even he could have used some work. I also wish I would have fallen in love with Daniel more. I started to toward the end, but I wish it would have been more.
Writing Style:By no means is Mrs. Despain a bad writer - she's good - but I could tell she was new to writing. There were way too many "I"s and some sentences were pretty choppy. She has a lot of room to grow and I look forward to seeing her do so in future books. I felt she could have given more to certain areas. I don't think the details were as strong as they could have been. And what bothered me was that she mixed past tense with present and I was taught not to do that. So that was a little problematic. But she did have a gift for making me want to keep reading. I practically devoured the book.
Cover: I love the cover! It doesn't really relate to the book, but it's a great cover. The violet does relate in a way and it pops along with the white legs. It's one that stands out of the crowd at the store, that's for sure.
Plot: Now the plot was pretty well crafted! I wouldn't say that the description is misleading but it really didn't lead me to expect what happened. Which isn't a bad thing by any means. Mrs. Despain started the book with a twist and kept them coming. Throughout, I kept changing my mind. At one moment, I would think one character was responsible. At other moments, I would think someone else was involved. It was all over the place in a good way. There were a few places were I got just a tad bit confused, but it wasn't too big of a deal. The ending really makes me curious for the sequel, The Lost Saint.
Dislikes: This has nothing to do with the book itself, but I hated the way it was formatted. The font was bold and there are letters in some places and the font used to write those were too hard to read. I found myself trying to read it instead of trying to process what I was reading when I got to the letters.
Final Thoughts: I can't decide whether I liked this book, really liked this book, or loved this book. It's definitely worth the read and I can't wait for the sequel, so I guess I really really liked it and loved certain parts.
Ratings:
Setting:★ ★ ★ ★ ★
Characters: ★ ★ ★ ★ ★
Writing: ★ ★ ★ ★ ★
Cover: ★ ★ ★ ★ ★
Plot: ★ ★ ★ ★ ★
Overall: ★ ★ ★ ★ ★
Recommend it? Definitely! It was a great read and a book I couldn't put down. Check it out!
This has been a review by Evie!!! Peace out!